We have just the thing to take your love for CBD to the next level. And if you're obsessed with cooking shows (confession: we are) this is doubly for you. With cooking programs cropping up all over the place, we've been inspired to do a spot of research ourselves. Cooking with CBD opens a gorgeous gateway to endless creative opportunities for syncing cuisine with the entire mind-body connection.
This equals: delving into some powerful self-care plus mixing that homey feeling of a curated meal. The bonus is that you can get as extravagant as you like. Think of a full course meal for your partner with cannabis, and imagine how it will transform it from the norm to a heightened, sensual experience. Sound tempting? Then let's go! Here are the basics of cooking with CBD along with our all-time favorite delish, mood-boosting recipes.
Cooking with CBD 101
There are a few options at your fingertips when it comes to CBD cooking methods, so let's get into it:
The Old-Fashioned Way
To all the clever cooks out there, this one is dedicated to you. First off, get your hands on some high-quality hemp-derived CBD flower and think about what type of fat you want to use (more on this in a moment).
In the meantime, note to self – always check COAs when buying your CBD, especially the CBD flower variety. (P.S. If you have any THC sensitivities, skip this option – CBD extracted from the flower will always contain trace amounts of THC, even if it is within the legal federal limit).
Next, (we're going old school here) following the lead of all the amazing stoners that have tested this method for decades. And we're working that in with the French press method because it's one of our favorite iterations with minimal prep and easy cleanup.
Ready? Here's your list of ingredients and the necessary equipment to pull this off:
1 French press

1 pot, Dutch oven, Instant Pot, or slow cooker

1 thermometer

Cannabis grinder (optional)

1 baking tray

Unbleached parchment paper

1 cup ground CBD flower

1 cup fat of choice (think butter, ghee, tallow, coconut oil, olive oil, etc.)
Instructions
Step one – decarboxylate your CBD flower. Say what? Ok, so this means you need to preheat the oven to 245 degrees F to start. You'll need one piece of unbleached parchment paper around the same size as your baking pan. Line your baking pan with parchment paper then add the ground-up CBD flower in an even layer. Note, you can either grind up your CBD flower with a cannabis grinder or by hand. Bake in the oven for 30-45 minutes while making sure to mix up the buds every 10-15 minutes for an even toast. You'll know it's ready when the flower has a gorge golden-brown toasted color, and the oven is oozing a fragrant hemp smell. 

After decarbing your CBD flower, let it rest for 15 minutes at room temperature. This is your time to prepare your choice of fat. Add it directly to your French press. You can use a pot as a double boiler, Instant Pot, or slow cooker for infusing the CBD. Add water to one of these cooking devices, place your French press in the center, and melt the fat if needed over low to medium heat. 

Once your fat of choice is liquid and your decarbed flower is done resting, add the CBD flower to your fat source inside of the French press. Place the French press steel top on the glass container to seal it, but

do not press it

. We take it slow here, letting it simmer on low heat between 160-200 degrees F. Keep on it, checking the temperature to ensure it doesn't go over 200 degrees F – if you do, you run the risk of burning the cannabinoids and terpenes which ruins the entire buzz. Let the mixture simmer for 2-3 hours now, stirring occasionally. The mixture should never come to a full boil.  

Finally, remove from heat after you're done simmering the CBD flower into your fat. Slowly press the top of your French press to separate the cannabis from the oil or butter. Carefully pour the liquid into a glass jar for storage and let cool to room temperature. We recommend storing this in the refrigerator and letting it continue to infuse for at least a few hours or ideally overnight before using, just to let all the good stuff happen. 
Hot Tip: Don't have a French press? Don't worry, you can easily use a mason jar instead and strain through a cheesecloth or fine mesh strainer after infusing. When picking your fat, get serious in your planning, thinking about recipes you intend to make. If you want to fry up something, use something with a high smoke temp like ghee. This recipe can easily be increased for a larger portion – just make sure to use a 1:1 ratio with ground-up CBD flower and your fat of choice!
Let's Skip the Drama But Keep the Versatility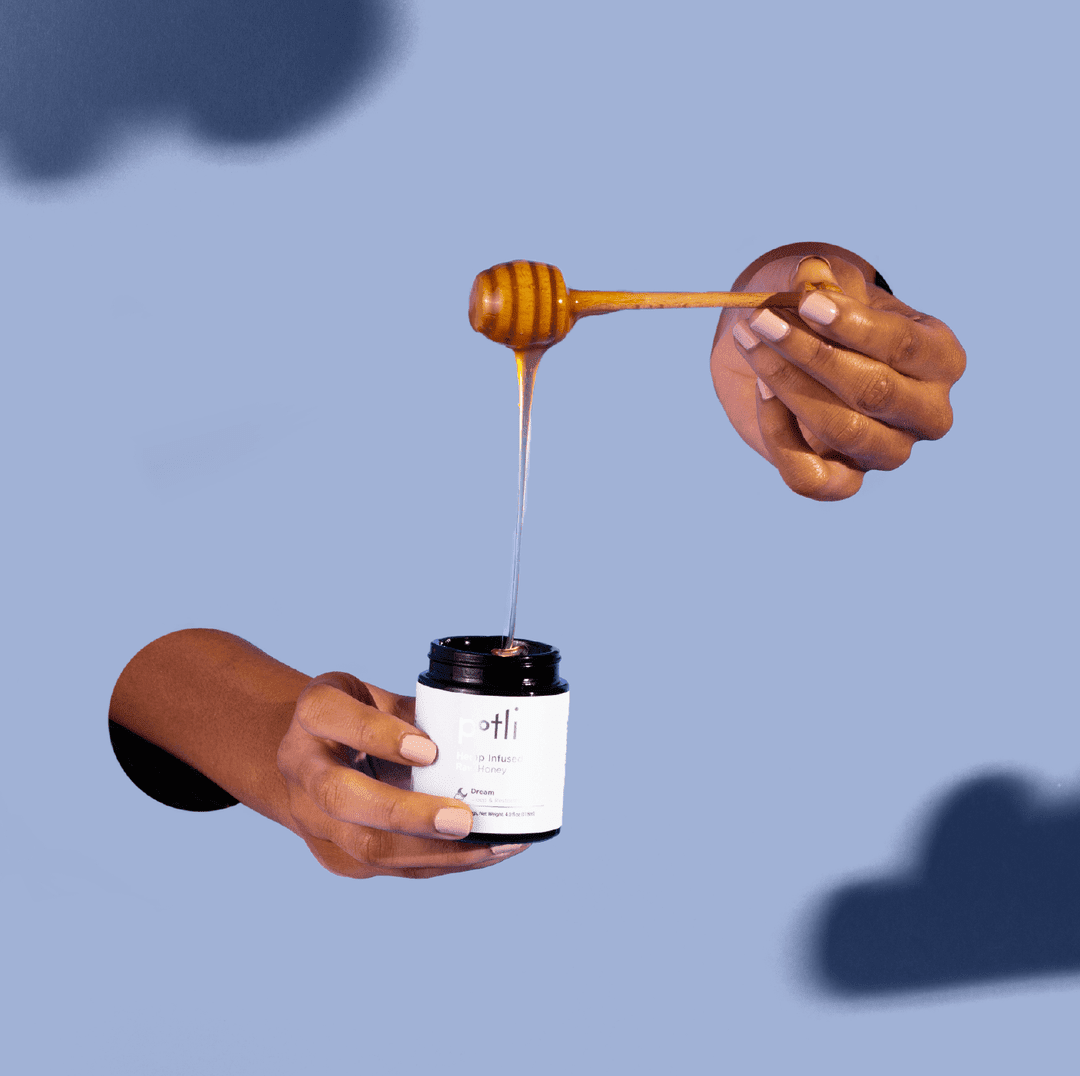 image credit: potlishop.com
We're all different, so maybe the homemade step isn't your thing. In that case, you can easily find a CBD-infused pantry staple that's ready for cooking. Brands like Potli and Pretty High make cooking with CBD super simple with ready-made oils, sauces, etc. That means you choose your recipe and pop your pre-infused oil, sauce, or seasoning in. Simple! 
The Beginner Way
If you're a beginner looking to dip a toe into cannabis cooking, strip it right back and use any ingestible CBD oil like our Rain cloud repellent or Rest for the wicked tinctures. But before you go crazy, remember that these types of oils can't be used with heat. Cannabinoids and terpenes all have their own unique smoke point ranging anywhere from 100 to over 400 degrees F. 
In other words, applying heat to this type of formulation can burn the plant material, causing a loss in potency and a gnarly taste. Trust us, you'll only want to use these types of CBD oil for drizzling on a finished dish or incorporating into a mocktail or drink. Alternatively, if you have pure CBD isolate on hand, you can try playing around with baking or cooking – just make sure to keep in mind that the smoke point is 356 degrees F on these products, so don't go past this and ruin the brew!
Our Favorite CBD-Infused Recipes
We've explored the various techniques to make the base of your CBD cooking. Now here are some of our favorite recipes, running through the main dish, dessert, and cocktail. Evening complete!
Parmesan-Encrusted Chicken and Creamy CBD Pesto Pasta
Hot Tip: It's true, cannabis has an earthy, hempy taste. So, when cooking with cannabis, you'll need to either find strong, masking flavors to conceal that or go for herbaceous flavor profiles that work together. Also, choose higher-fat recipes to max out on the benefits, as fats make cannabinoids more bioavailable. 
Ingredients
2 servings | Nut-free | Gluten-free, dairy-free, low-carb, and vegan alternatives
1 lb chicken thighs

1 egg

¾ cup freshly grated parmesan 

½ cup rice flour

6oz pasta of choice

½ cup hemp seeds

2 garlic cloves

2 cups fresh basil leaves

2 tablespoons fresh lemon juice

¼ cup + 1 tablespoon homemade CBD-infused olive oil

¼ cup heavy cream

Salt

Black pepper

Red chili flakes
Recipe Alternatives
Gluten-free:

Choose your gluten-free rice flour or protein pasta
Dairy-free:

Double down with vegan cheese and replace the heavy cream with 1 avocado
Low-carb:

Bread the chicken with ground pork-rind panko and use an egg-based keto recipe for the pasta
Vegan:

Skip the chicken, egg, and heavy cream and add 1 avocado in place of cream
Directions
In a food processor, mix the hemp seeds, peeled garlic cloves, fresh basil leaves, and lemon juice, and pulse until finely chopped and fragrant. Slowly mix in the ¼ cup of CBD-infused olive oil and ¼ cup of parmesan, pulsing occasionally until thoroughly combined. Cover your pesto sauce and set in the fridge to infuse for ideally a couple of hours or overnight. 

Once your pesto is ready, slice your chicken thighs and set aside. Separate the rice flour into two dishes – season both dishes of rice flour with salt and black pepper and mix in the remaining ½ cup of parmesan into one of them. Scramble one egg in another small dish. Dredge your chicken lightly in the parm-free rice flour mixture, cover evenly in the egg, then coat again with the rice flour-parmesan mixture until all pieces are prepared.

Add 1 tablespoon of CBD-infused olive oil to a frying pan over medium-high heat while you bring water to a boil in a separate pot. Once the pan is sizzling, fry each side of your chicken until it appears golden brown and cooked throughout – this should take approximately 5-6 minutes on each side. 

When your water comes to a boil, cook your pasta of choice according to the directions. Strain your pasta once it's ready. Add back your pasta over medium heat and stir in liberal amounts of your CBD-infused, homemade pesto and the ¼ cup heavy cream until it is evenly covered. Reduce to low heat and allow the cream to thicken until the desired texture is achieved.

Plate the pasta and chicken, garnishing with fresh basil leaves, hemp seeds, and freshly grated parmesan. Top the chicken with additional pesto if desired. Enjoy!
Oven Roasted CBD Figs
We don't know about you, but calorie overload can get us sluggish, so after this rich dinner, we love a lighter dessert. Bring on the fresh fruit – I mean, fruit cancels out the fried chicken and pasta, right? The double win is that this dessert is also easy to make. 
Hot Tips: CBD-infused desserts are a great go-to because most dessert ingredients are great for concealing the hempy taste. That gives you creative license to use your CBD-infused ingredients in your favorite dessert recipe.
Ingredients
2 servings | Gluten-free, nut-free, dairy-free, and vegan
6 fresh figs

½ teaspoon cinnamon

Salt

1 tablespoon brown sugar

1 ½ tablespoons

Potli CBD-infused honey

Fresh rosemary sprigs
Directions
Preheat the oven to 350 degrees F. Slice the figs in either quarters or halves and place into a baking dish. 

Sprinkle the cinnamon, brown sugar, and a pinch of salt evenly over the fresh fig pieces. Place the rosemary sprigs over the figs and roast them in the oven for 40 minutes.

Cool for 10-15 minutes before drizzling with the CBD-infused honey. Enjoy!
Pomelo and Basil CBD Cocktail
Hot Top: ICYMI: CBD tinctures are great for any cocktail or drink recipe. Totally versatile, you can also drizzle them over a variety of dishes whether they're served cold or hot. Just make sure you're not applying heat directly to these.
Ingredients
2 servings
2oz fresh pomelo juice

1 handful fresh basil leaves

1 ½ oz agave syrup

3oz gin

Ice
Directions
Prepare 2 glasses with ice and basil garnish.

Muddle ice with the fresh basil leaves in a cocktail shaker. Add pomelo juice, agave syrup, gin, and Rain cloud repellent. Shake thoroughly before straining and pouring over prepared glasses. Sit back and relax!
Get Creative With CBD Recipes
Got your tastebuds tempted? As experts in developing high-quality CBD that puts you in the zone, we have all the products you need to develop your CBD cooking repertoire. Simply head to our shop to browse or contact us directly if you need extra tips and info.  Got any recipes of your own to share? We'd love to hear them. Let us know!