Bags packed, essentials added, traveling outfit sorted (we vote sweats). Chances are, you've already nailed your luggage, checked weight restrictions, and everything else. But have you stashed your CBD in your case? If you're wondering, CBD is subject to certain restrictions depending on where you travel to, so unless you want an awkward experience at the airport, it's wise to do your research first. 
The regulations are all based on local laws which may differ in both state-to-state if you're in the US, and within different countries, if you're going international. Lucky for you, we've collated this guide to walk you through the basics. Think of this as your jump-off point to finding the right info before you jet off. Let's get into it. 
Can you travel with CBD in the US?
Here in the US, CBD is legal federally. The top line is this – hemp-derived products (that includes CBD oils, topicals, capsules and so on) containing 0.3% THC or less as well as those that are FDA-approved (Epidiolex) are legal and can be taken during domestic travel on airplanes or car. 
CBD is legal on these same terms across all 50 states, except for Idaho which has specific CBD laws. If you're planning on a trip to Idaho, know that your hemp products can't contain any THC, watch for full-spectrum products. Regardless of where you're headed, this one is down to you. So, take a close look at the info on your CBD product label to see what type of CBD it contains. If these products are deemed illegal, any encounter with law enforcement will be a big no-no, and we all know that no one wants that on vacation. 
International travel with CBD
For those traveling internationally, the picture is a little more complicated. This is because every country has its laws around CBD, with some adhering to restrictions like a 0% THC content and others outlawing it completely. In truth, the views and corresponding laws around CBD vary widely, with some people even falling foul to prison sentences in their destination country for bringing their CBD products along. It's always worth checking local laws and airline regulations around CBD before you travel, but often the simplest and safest solution is to leave your CBD at home. 
Tips for traveling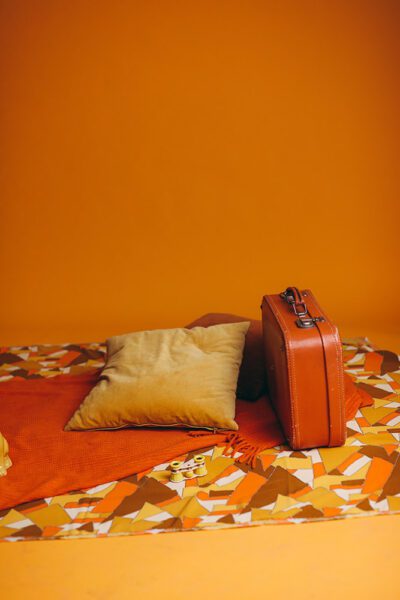 Whether you're traveling domestically or between countries, some general housekeeping tips will stand you in good stead. The top priority always is to avoid fines or criminal charges when you arrive, ergo, leaving your CBD at home makes sense. But if you think your destination allows CBD products, here are a few things to tick off before you set off. 
Research your brand
All reputable CBD brands have clear product labels with the information you need. Check yours, looking for specific content in terms of CBD type and THC content. It's always best to buy yours from a company that provides linkable batch-specific COAs (aka QR codes) for travel, which tells you what's inside your CBD.
Be cautious
Perhaps the simplest route is this – if you have even the tiniest doubt about local laws, leave your CBD products safe at home. Let's face it, the usual routine goes out the window when you're away anyway. Think of this one as part of your at-home thing, and while you're elsewhere you're doing things differently.
Buy when you're there
Sometimes the best solutions are the simplest ones and buying CBD while you're at your destination could be the answer. Many countries and states in the US have CBD products in shops, giving you options. Do a little research first to see whether it's possible to stock up when you get there. You might be pleasantly surprised.   
CBD for travel
There are plenty of reasons to find safe and reliable ways to include CBD in your vacation. Providing you know that it's safe to either bring along or buy when you arrive, your CBD could enhance your trip, delivering all the same benefits you get at home but with a vacay spin.
For sleep
You're not alone if your sleep gets out of whack when the routine changes. Traveling is fun, but for some of us, long journeys, different time zones or simply a different day-to-day can wreak havoc on our sleep. CBD can help keep any issues in check with its promising results in sleep and relaxation.  
Top Tip: Try our Rest for Wicked remedy, a full-spectrum CBD tincture that's made for nights like that. 
For fun
Want to maximize fun? We've got you. This calls for some libido nurturing. With the potential to increase blood flow to key areas when applied topically, combat vaginal dryness and boost sensitivity, CBD could be your pleasure zone's BFF.    
Top Tip: Work Wake the Neighbors love lotion into intimate areas to ease tension and promote blood flow. 
For anxiety
Loving the idea of a vacation but not the stress that's hitched a ride? We know, these should be sunny times, but sadly we can't reach for the off-button and delete all anxiety. CBD shows potential for reducing stress and anxiety though and could help you naturally ease into holiday mode. 
Top Tip: Boost the feel-good vibes with Rain Cloud Repellant and approach your vacay easy-breezy.
Hoo Raa CBD for travel
Being clever and cautious about your CBD choices before you travel is the advice to live by. If you feel like you can take yours safely or buy when you're there, remember that cannabinoid therapy is highly individualized, feeling different for every person and varying from product to product. Checking your labels on new products is also key if you want to get the most from your experience. If you're planning on buying from Hoo Raa or need any advice on traveling with CBD, our team is here for you. Simply shop now or reach out any time!