We're turning up the heat this winter season by spicing it up with new traditions and setting the vibe for 2023. The holidays can quickly become jam-packed with festivities with friends, visiting the fam, and wrapping up all your last to-dos. But don't let holiday stress seep into all the goodies this season has to offer – making sure you've got your trusted stress strategies can help you enjoy every moment so much more. That's why we wanted to pop in and share some of our favorite CBD winter recipes for de-stressing and to help with your December glow up.
Cooking with CBD
Cooking with CBD can sound boujee but it can actually be a lot easier than you think! Plus it's yummy AF and what better way to wine and dine than with a little cannabis twist? Here's a quick recap on how to infuse CBD into some of your winter faves: 
For more cooking cred:

Looking to impress at your next holiday party? Try making your own CBD butter or oil – homemade CBD butter just hits different! All you need is premium CBD flower, your fat of choice (the higher the smoke point, the better), and a couple of kitchen staples. Follow our recipe

here

.

IYKYK:

Skip to the good part by purchasing specialty CBD cooking staples. From Santa Cruz Medicinal's CBD-infused

avocado oil

to Pretty High's

BBQ sauce

, you can skip the drama and dive right into cooking the main feature. 

That drip drip:

Trying to stay sustainable and on budget? We love repurposing things we already have for these exact reasons! If you already have some of your fave CBD tinctures on hand (psst like our

Rain cloud repellent

), you can drizzle these onto any finished dish or add to your fave drink. 

Tips and Tricks: Make sure you think about the flavor profile of your CBD tincture so you can pair it properly with the recipe you're working on. Unflavored tinctures can either be virtually tasteless or have that earthy, hemp flavor we all know and love.
Cranberry-citrus CBD sparkler recipe
If you're looking for an ultra-yummy holiday drink that seriously slaps, our cranberry-citrus CBD sparkler will have you weak. Delicious with or without vodka, we love making this whenever we're hosting. Enjoy day or night so you can feel chill AF!
Ingredients
3 oz ginger beer

3 oz cran-apple juice 

2 oz vodka (optional)

Hoo Raa

Rain cloud repellent

½ tsp ground cinnamon

3 tbsp sugar

Fresh lemon juice

Lemon
Directions
Combine the sugar and cinnamon in a bowl and set aside.

Use a lemon wedge to rub around the rim the same way you'd prep for a marg for salt. Then coat the wet rim with the sugar-cinnamon mixture.

Add ice to your prepared glass then pour in your cran-apple juice, vodka (this is optional), and add half to a full dropper of Rain cloud repellent for 20-40mg of CBD. 

Add a splash of fresh lemon juice and top off with ginger beer.  

Give it a quick swirl and serve!

Tips and Tricks: Looking to make this a scrumptious nightcap? Swap out the Rain cloud repellent for our Rest for the wicked for a dreamy, minty twist!
CBD bone broth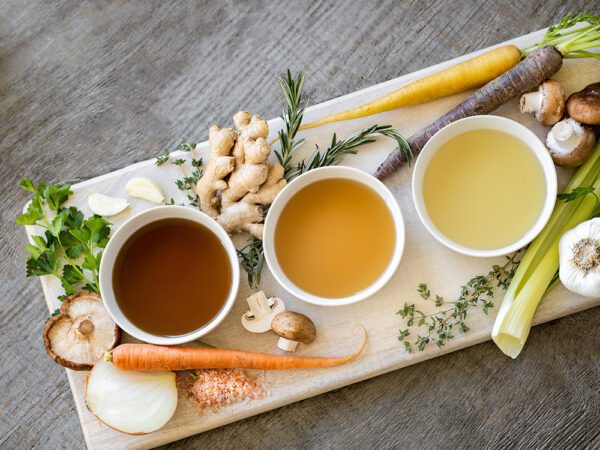 Bone broth is the GOAT – this savory, collagen-rich, nutrient-dense dish is super easy to make and a great way to make sure you're supporting your digestive health through the holiday stress and processed, decadent festive foods. Whether you sip on this in a mug or dress it up with a bunch of mix-ins, bone broth is the perfect way to warm up. 
Ingredients
Grass-fed beef bones from the local butcher, your favorite farm, or

White Oak Pastures

Carrots

Onions

Celery

Garlic

Bay leaves

Sea salt

Black pepper

2 tbsp apple cider vinegar   

Filtered water 

Hoo Raa

Rain cloud repellent

Optional: mix-ins (your choice of protein, vegetables, and noodles)
Directions
Preheat oven to 350 degrees. Roast the bones on a baking sheet for about 40 minutes.

Place beef bones along with all other ingredients except for the CBD tincture and optional mix-ins in your Instant Pot or pressure cooker. Fill to the max line with filtered water.

Pressure cook on high for at least 90 minutes then let rest for 10 minutes before releasing.

Use a fine strainer for the broth and discard the bones and aromatics. 

If you're adding mix-ins, use the broth as a base and cook accordingly time-wise based on what protein, vegetables, and/or noodles you use. 

Drizzle a quarter to half dropper of our Rain cloud repellent for 10mg to 20mg of CBD per serving and enjoy!

Tips and tricks: Looking for a fun way to serve this at a dinner party? Set it up hot pot or shabu shabu style and splurge on a variety of mix-ins for the ultimate festive celebration.
CBD honey peanut butter truffle recipe
Image Credit: manukahoneyusa.com 
After a long day of festivities, what better way to treat yourself than our easy-to-make CBD truffle recipe! We love this one since it's absolutely delicious and doesn't really need much prep (or baking for that matter!). Plus, you can make a big batch ahead of time and enjoy them throughout the week 😉
Ingredients (Approximately 8 servings)
¼ cup gluten-free oat flour

½ cup natural unsweetened peanut butter

¼ cup

Potli CBD Dream Honey

½ teaspoon vanilla extract

2-3 tablespoons shredded coconut

Pinch of sea salt
Directions
Mix together the oat flour, peanut butter, honey, vanilla extract, and salt in a medium mixing bowl.

Roll the mixture into about one-inch balls. Then roll each ball in dried coconut for an even coat.

Set the truffles in the fridge to chill for at least 30 minutes.

Serve cold and store these in your fridge.
Tips and Tricks: If you don't have access to Potli honey, swap it out for regular honey. You'll also need vanilla bean powder instead of vanilla extract. Use two droppers of our Rain cloud repellent for about 20mg of CBD per serving. 
Hoo Raa favorite CBD winter recipes
We love a dank cannabis recipe to warm and fill us up while we're spending time with our loved ones. Whether you're looking for new holiday traditions or adding a fun CBD twist to your existing ones, we are here for it! Hoo Raa has the high-quality CBD tinctures perfect for all your potions and recipes this winter season. Shop our faves and give us a shout if you need some CBD cooking tips!